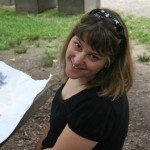 There was a nice breeze when we started the workout today, but for some reason – it quickly disappeared right after the warm up! I wonder why?? Because it's friggin HOT!
We had a late start today so we only did one round of warm ups but the rest was business as usual – and as usual, I left the workout very sweaty and hot.  What else is new?!!
warmup x 1
side shuffle
push-ups
checkpoints
skip jumps
general stretching
core x 2
partner leg raises
sit-ups with your hands crossed and on your shoulders the entire time
ball twists (14lb dynamax ball)
side high five push-ups 25
workout
5 min stations
boxjumps at 2 min mark: run to cone and back resume box jump and at 4 min: run resume box jump
25lb kettlebell swings
heavy jump rope at 2 min mark: 5 inchworms resume heavy rope at 4 min: inchworm resume heavy rope
run half mile/20lb db hang cleans
65lb SDHP at 2 min mark: 10 burpees resume SDHP at 4 min mark: 10 burpees resume SDHP
The pictures in this post are from June 27, 2009 – Last year and one full year into my commitment to a healthier and fit life. And this week marks 2 years since I attended my first Plumbline Boot Camp!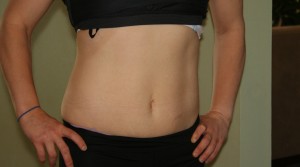 Look at that picture and for anyone out there that thinks being in shape and transforming your body is easy – that pic says it all. I was working out like crazy for one year – it takes time, patience, and whole body/mind changes to really transform yourself. I feel great and I know I look better than I did last year – hands down.
If I can do it – anyone can – REMEMBER THAT!