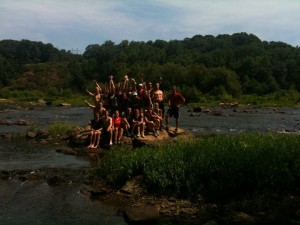 I think you will start to notice a theme in my posts this summer — I am not particularly at my best working in this heat and humidity. I just am not working at my peak level – and my sinus infection seems to be clearing out – which is not necessarily the greatest experience… Anyways – I got up and headed to workout as usual and did manage to finish but not in the most impressive time – but I did finish at the higher level. So success any way you look at it!!!
Warmup
side shuffle
push-ups
checkpoints
skip jumps
Core x2
partner ball toss 14lb dynamax ball
hold and freeze
25 partner double high five push-ups
Workout
1 mi run timed (7:?? mi) (6:54mi last week)
15,12,9,6,3
65lb barbell ballistic push press
20lb db squats x2
14lb wall ball squats x2
50yd bounding
I was going to go down a level today to accommodate the way I felt – but with pressure from Mikey and my own mind – I went ahead and did the normal level I do. I will let you know later if that was a good idea. I figure – I am there and might as well not cut corners and get the max benefit I can.