Archive for
October 30, 2010
0
Before the speeches and music kicked off, rally-goers amused themselves by checking out each others' signs. And there were some doozies.

Sanity Is A Pre-Existing Condition

I can see America From My House.

I Came Here Illegally. I Went 5 mph Over the Speed Limit On I-95

Free Hugs from a Militant Atheist with a Gay Agenda.

He's Black, Get Over It

This Sign Contains Correcrt Grammar and Spelling

I love America. Even Though We Get It Wrong Sometimes, It's Still a Nice Place To Raise a Family.

Speak Softly And Carry a Bibliography of Statistics

Just Listen

Retired CIA Analyst for a Sensible Drug Policy

Mama Grizzlies for Climate Change

Minorities: They are Not So Scary When You Get to Know A Few

I Love Truthiness

We The People, Not We the Corporations
via 'Restore Sanity and/or Fear' Ralliers Jam National Mall.
2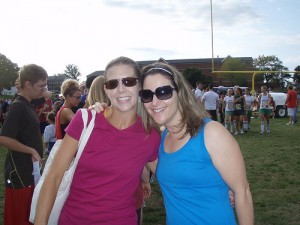 This is Stacy — STAC! for short. She is running the Marine Corp Marathon on Sunday and has worked really hard training for this. I, along with the rest of the Plumbline Ladies, are really proud of her.
Stac! is a busy mom, psychologist/hypnobirthing specialist and inspires me every day. She is hilarious and can always be counted on for taking a joke to a place you just weren't.   I love that about her!
She's so amazing and inspiring and just one of the many powerful, amazing women I get to workout with every day!
GOOD LUCK STAC!!
and everyone else running the Marathon on Sunday!
0
Today I am heading to the Banshee Reeks Nature Preserve for a Girl Scout Walk Together with Hannah Bea today for a 3 mile nature hike. Its a crisp fall day and anyone that knows about No VA knows its one of the most beautiful times of the year for this area — with the fall leaves changing colors. I hope to get some great shots of it all!