Yesterday was a crazy busy day — Scotty and I headed out to finish our last minute holiday shopping and then we spent a few hours wrapping the gifts. This is pretty good for us as we usually wait until the night before so we are already ahead of last year's schedule.
Then I headed out to another practice WOD from Crossfit Impavidus*. Now if you are keeping count – Weds eve I did a WOD, Thurs AM I did boot camp and Thurs eve I did another Crossfit Impavidus WOD and this one was a doozy!
WUp
3 rounds
sampson stretch
60 jump ropes
butterfly situps
PVC Shoulder stretch
OH squat
Skill Work
KB Swings 18lbs
WOD
6 RFT (rounds for time)
bear crawl
25 push ups
50ft broad jump
20 35lb KB swings
I have a feeling I am forgetting an exercise but we had to yell round after each round bc after the 1st one – you seriously are so delirious you can't count. After my run outside yesterday morning — my lungs were hating this workout and I was still coughing and catching my breath for an hour post workout.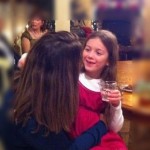 Then I rushed home – got dressed to head out to a friend's holiday party. I am glad I went because I ran into some old friends and met some new ones! Kids were invited and that was definitely a plus! Both my kids made some new friends and when it was time to go – they both weren't ready. That's a sign of a successful party for us! I had not eaten dinner either so while there I stocked up on turkey, sausage and veggies and salad they had out. I was starving after that workout — and had 2nd helpings of protein and ended with a gourmet german chocolate cupcake! Yum!
We got home late — got to bed late — and yes, I still planned on getting up for boot camp at 5A.
*Crossfit Impavidus has contracted me to do some social marketing on their behalf — Although I have always been a fan of HIIT and Crossfit so my opinions are my own!