Archive for
March 21, 2011
0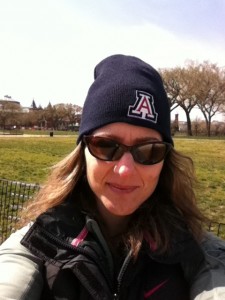 Before I post my normal workout stuff- I want to take a minute to cheer on my beloved Arizona Wildcats as they head to the Sweet 16. Yesterday's game was a nail biter and they pulled it off! Bear Down Arizona! Notice the A hat in the pic to the left!
It's a rainy morning complete with thunder and lightning — so I was greeted with darkness as I headed to my workout. It was a frustrating morning for me too – I couldn't seem to get any traction on technique of any of the main moves after many, many tries!
Warmupx2
20 Double Unders – for the record I got ZERO complete, but many, many attempts this AM.
10 push ups
5 Pistols
WTF are with the Pistols! — I have never done these before and I got frustrated. I used a metal column to help balance but the pain you feel as you lower yourself to a one legged squat is — well let's just say, unpleasant. These 'pistols' are going to be something I work on because it's been a while since I had something that frustrated me so much that I wanted to quit!
Skill
Clean and Split Jerk
WOD
1-1-1-1-1-1
Clean & Split Jerk
Results: 73/83/83/83/103/83/83
2m challenge
Burpees – 31
Notice on the clean and jerks, I tried the 103lbs but couldn't clean it up. I am still pulling way too early so I lose the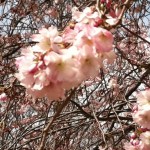 momentum I need to get it up. I know exactly what I am doing wrong – it's fixing it that seems to be the issue. Practice, practice, Practice!
We were in DC yesterday for the Scope It Out 5K — and the cherry blossoms are starting to bloom. I took the pic to the right at the Hirschhorn Sculpture Garden. I love spring time in DC — the entire area where the monuments are become breathtaking when the cherry blossoms are in full bloom. Happy Spring!!