The this 'looks' easy WOD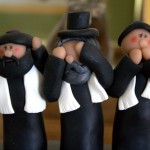 CrossFit has these workouts named after girls — yesterday's workout at CFI was 'Angie'. 100 pullups, 100 push ups, 100 squats, 100 situps — no scaling, no splitting them up. Just get through it — I was bummed that yesterday was a rest day. You know you are hooked when you are sad you missed a workout like that. For a moment, I thought about going — but since my husband was out of town, the kids would have to come with me and that wasn't very appealing after the last 2 times they came.
That's a great thing about CrossFit in general — if you look back at the workouts this week, they were all different. Mon was strength, Tues was endurance/running, Weds was sheer will & determination, and today, as you will see — was quickness/agility.  Each day helps develop different skills to make a well rounded athlete.
Hard but great workout today —
Warmupx2
20 Single Jump Ropes
10 Pass Thrus
10 Good Mornings
10 Pull Ups
10 Cobras
Skill
Double Unders
WOD
20 AMRAP
15 Double Unders
15 Box Jumps
15 Burpees
total = 4 rounds
Coach Jerry decided we were not allowed to scale, so Double Unders or attempts were the only acceptable thing you could do during the workout. It's good though because the only way to get good at DUs is to do DUs. I have really noticed a marked improvement in so many skills the past few weeks — my handstands are moving along. I can now hold them for more than a few seconds, my kip swing is in full glory and now i have to figure out how to move on to the actual pulling towards the bar, and I even can string up to 3 DUs together in one try. All huge gains for me!