Archive for
May 31, 2011
0
At age 74, will you look as good as Ernestine Shepherd, the oldest competitive female bodybuilder?
Very inspiring lady — no doubt, but read closely and the hard work she puts into it. Especially when it comes to what she eats. It's not easy to be in this sort of shape but even half in shape as she is – is worth it. You are never too young to make a change —
"Age is nothing but a number," Shepherd says assuredly into the microphone. She has been featured in Essence, on the "Today" show and local television in Baltimore. Last fall, she appeared on "The Mo'Nique Show," explaining fitness and aging. "We can do it! Why?" Shepherd asks. "Because we are determined, dedicated and disciplined to be fit. You can. You can do it."
1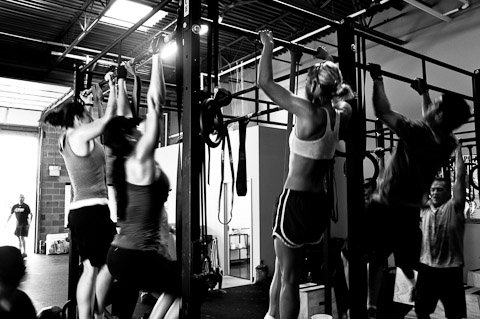 This morning – sore & tired, I still headed into CrossFit. Today is gymnastics day and I love those days!
Warmup
50 DUs
—-
10 Pass Thrus
10 OH Squats
10 Good Mornings
10 Trunk Extensions
10 Cherry Pickers
Wrist mobility
Skill
Hand stands
Hand Stands on the Parralettes (where I promptly landed wrong and whacked my shins! Ouch.)
WOD
15,12,9
80# Front Squat
Parralette Shoot Thrus
time: 7:29
Yeah, I'm tired. Front squats seemed extra hard today.
0
Yesterday was a great day. I headed to CrossFit Impavidus for their Memorial Day 'Murph' WOD. I did 'Murph' last April and the weather was pleasant. Yesterday – not so pleasant. Hot, Humid, Hot — but this was a great WOD, and great way to honor a real hero.  We started the day with National Anthem and read about Navy Lieutenant Michael Murphy,, who was killed in Afghanistan June 28th, 2005.  To do Murph with all the fellow athletes, many of them military — it took it to a bigger level.
So my Murph time for yesterday: 53:10. It was brutal. We were all drenched in sweat and just completely wiped out. We did a post WOD potluck as well – full of paleo and non-paleo food. It was really fun and great to spend time with some great people outside of the brutal body beatings aka WODs.
I got home and had to get ready for a small cook out  — We invited some neighbors over.  I love having people over because it forces you to clean up your house. Hannah walked in from the pool and said 'Mom, the house is so clean and orderly.' I said – let's keep it this way ok? Easier said than done!  Great cookout, great friends, great food. I even made homemade strawberry ice cream with strawberries picked from Great Country Farm. It was a great day — and I slept great last night!