Archive for
September 7, 2011
0
Author Geralyn Lucas puts a fresh face on cancer survival
There are way too many young people getting cancer—
Sixteen years ago, Lucas received a breast cancer diagnosis. The 44-year-old author of "Why I Wore Lipstick to My Mastectomy" is among Gen X survivors helping to de-stigmatize the disease.
1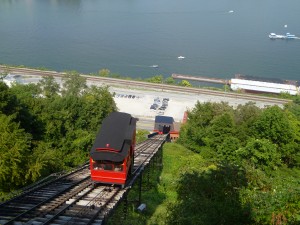 It's raining AGAIN. I woke up with a bad headache too and figured the best way to cure it was to head out for my workout and get the blood flowing. Sure enough, I'm done and have no headache.  Another benefit to exercise!
Not sure what's going on with me — I have not been able to get a good night's sleep the last two nights. I wonder if it was the non paleo eating I did over the past weekend. That really tends to affect my sleeping patterns. I love getting my Zzz's, so when I don't get enough — its rough the rest of the day.
We have had a lot of new athletes at CrossFit Impavidus and one thing seems to keep coming up — how fun what we do is. I have said it before — its the kind of fun you had when you were a kid on the playground. I was never terribly active as you know, but I do have fond memories of hanging out during recess on the playground. It's like going to a playground every morning — your friends are there, you laugh, you challenge yourself, you workout. Some days are harder than others — some are perfect.  I really wish everyone would try it. It really is the key for me – im not bored. I can't even imagine going to a regular gym and getting on a treadmill anymore.
This morning we did a bit of lifting -the snatch. It's a tough lift and we did a lot of laughing and helping one another. I chose to go lighter in weight only because my form is off. I need to work on the form, to develop some muscle memory and then will attempt it with heavier weights.
Warmup
25 DUs
10 Squats
10 Whirly Birds
10 Pass Thrus
10 Hollow Rocks
Skill
Burgener warmup
WOD
12 min AMRAP
OH Lunge 50 ft (45/35 plate)
5 Snatches (70% 1RM)
total rounds = 45/35 5.5 rounds
You would think the snatch was the hard part of this workout. No – it was the OH lunges with the plate overhead. Holy smokes! It seriously is a form of torture —