Archive for
September 26, 2011
0
Gluten: What You Don't Know Might Kill You
The Dangers of Gluten
A recent large study in the Journal of the American Medical Association found that people with diagnosed, undiagnosed, and "latent" celiac disease or gluten sensitivity had a higher risk of death, mostly from heart disease and cancer. (i)
This study looked at almost 30,00 patients from 1969 to 2008 and examined deaths in three groups: Those with full-blown celiac disease, those with inflammation of their intestine but not full-blown celiac disease, and those with latent celiac disease or gluten sensitivity (elevated gluten antibodies but negative intestinal biopsy).
The findings were dramatic. There was a 39 percent increased risk of death in those with celiac disease, 72 percent increased risk in those with gut inflammation related to gluten, and 35 percent increased risk in those with gluten sensitivity but no celiac disease.
This is ground-breaking research that proves you don't have to have full-blown celiac disease with a positive intestinal biopsy (which is what conventional thinking tells us) to have serious health problems and complications–even death–from eating gluten.
Yet an estimated 99 percent of people who have a problem with eating gluten don't even know it. They ascribe their ill health or symptoms to something else–not gluten sensitivity, which is 100 percent curable.
And here's some more shocking news …
Another study comparing the blood of 10,000 people from 50 years ago to 10,000 people today found that the incidences of full-blown celiac disease increased by 400 percent (elevated TTG antibodies) during that time period. (ii) If we saw a 400 percent increase in heart disease or cancer, this would be headline news. But we hear almost nothing about this. I will explain why I think that increase has occurred in a moment. First, let's explore the economic cost of this hidden epidemic.
Undiagnosed gluten problems cost the American healthcare system oodles of money. Dr. Peter Green, Professor of Clinical Medicine for the College of Physicians and Surgeons at Columbia University studied all 10 million subscribers to CIGNA and found those who were correctly diagnosed with celiac disease used fewer medical services and reduced their healthcare costs by more than 30 perecnt. (iii) The problem is that only one percent of those with the problem were actually diagnosed. That means 99 percent are walking around suffering without knowing it, costing the healthcare system millions of dollars.
And it's not just a few who suffer, but millions. Far more people have gluten sensitivity than you think–especially those who are chronically ill. The most serious form of allergy to gluten, celiac disease, affects one in 100 people, or three million Americans, most of who don't know they have it. But milder forms of gluten sensitivity are even more common and may affect up to one-third of the American population.
0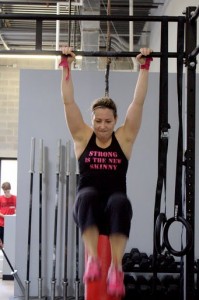 I will make this a good week for me — let go of fear, act like an adult with the best of intentions. No more losing sleep, being weepy, trying to rationalize situations in my head.
I started it off with a great workout — it was a heavy lifting day. Some people don't understand why you need to do strength days. It's to get stronger — because it's about strength AND conditioning.
Warmup
800m run
10 good mornings
10 OHS
10 Push ups
10 Ring Rows
Skill
Back squat
WOD
Back Squat
5-5-5-5-5 – I didn't get heavy enough because my heavy back squat should be over 195#.
83,113,133,143,153
Tabata Push Ups
Total 71
I have the oddest song in my head this morning — by the Backstreet Boys.