Archive for
December 5, 2011
0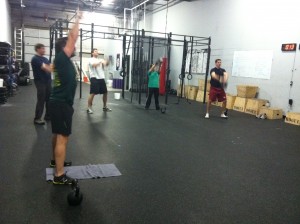 This morning we did some Olympic lifting (Oly Lifts) — and let me tell you, it's hard. Snatch Squats are tough — its all about technique! And it's frustrating —
warmup
Burgener Warmup
This warmup helps with muscle memory as you learn your Oly Lifts.
This warm-up consists of six different sequences that are important for learning to perform the Olympic lifts. The Burgener warm-up is performed with a length of PVC pipe or a dowel and specifically trains the second and third pulls of the snatch. Repetition of these six sequences with little or no weight conditions the body to move properly through the power phases of the snatch and the clean and jerk.
Skill
Snatch
WOD
Snatch
1-1-1-1-1-1-1
Special treat: Tabata Kettlebell swings
I have problems with my form so I didn't get as heavy as I wanted.
33/63/73/83/73/83/73 (failed at 83#)
92 kb swings (1 pood)
0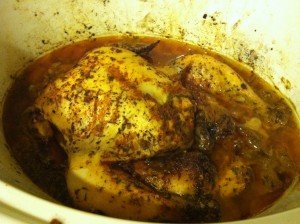 I tried this recipe last week and to say it was Delicious is not giving it enough credit.  I found it at the Civilized Caveman website and it fits in perfectly with a "paleo" eating plan.
Buy a 4-5lb chicken
Clean it
Pat it dry
Cut up some onions
Line the bottom of a crockpot with the onions
Mix up a bunch of spices
2 Tsp Paprika
1 Tsp Sea Salt
1 Tsp Onion Powder
1 Tsp Dried Thyme
1 Tsp White Pepper
1 Tsp Cayenne
1/2 Tsp Garlic Powder
1/2 Tsp Black Pepper
Smother the chicken with the spice mix —all over.
Set your crockpot for 6 hours on LOW — voila!
(No broth needed either — I know, I was surprised about that too!)