Archive for
December 9, 2011
0
My friend Tina K. posted this today and I loved it — sharing it with you all —
You must constantly ask yourself these questions: Who am I around? What are they doing to me? What have they got me reading? What have they got me saying? Where do they have me going? What do they have me thinking? And most important, what do they have me becoming? Then ask yourself the big question: Is that okay? Your life does not get better by chance, it gets better by change. ~Jim Rohn
0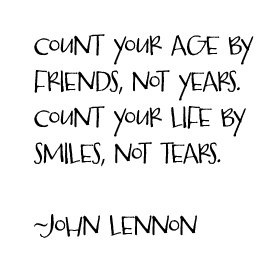 This is a really good thing to remember:   "You can't exercise away a bad diet."-Mark Sisson
And it really is true — you see it all the time. People who literally work their butts off in the gym and for as hard as they work, still have to lose those extra pounds. Can you imagine how frustrating that would be? I don't have to imagine because that was me before I realized it was my diet that was sabotaging my efforts. Once I tweaked that — ok let's be honest, it was more than tweaking — let's call it an overhaul, the results that I had been searching for began to appear.
It really is true — all the exercise in the world won't rid you of the effects of a bad diet. Period, end of story!  Try changing things a little at a time — if that seems daunting and depressing. For me, years ago, I gave up Diet Coke — and first I went down to 1 a week, then eliminated it, then did something else — and it just started clicking with me and I stopped craving some of that crap. It really does work like that — hard to believe it at this point, but its true.
I have been talking to some of the Whole Life Challengers who are participating in the nutrition/life challenge we are hosting at CrossFit. The ones that have seen huge gains and really remarkable transformations have said they feel better, don't miss a lot of the stuff, and seriously — can see and appreciate the huge difference it has made. They truly look amazing too! I am so inspired by them — and they look Younger! No Lie!  So, what are you waiting for?? Take a first step — no matter what it is. They all count!
Today's workout was a bit daunting because some of it was outside –and it's like 20 degrees this AM but that didn't deter me. No excuses. Get up and do it!
Warmup
25 Double Unders
2 wall walks
10 Good Mornings
10 Pass Thrus
—
mobility work
Skill
deadlifts
WOD
Tabatas!
Pull Ups
50m Sprints
135# Deadlifts
totals: 43, 9, 31
I like deadlifts but after the other 2 exercises, that 135# bar seemed a lot heavier than it did when I set it up. I guess that's the point!
Do me a favor, do something active this weekend — no matter what it is. Just Do It!