Archive for
December 19, 2011
1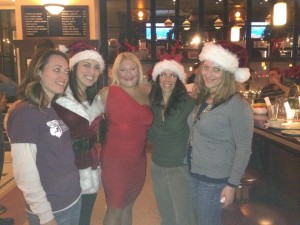 It's been a really fun holiday season so far. We are coming up on the one year anniversary of CrossFit Impavidus and it's just so great to see how the community has flourished.  Great energy, great people — a lot of fun.  I have a feeling these ladies are going to get me into a lot of trouble in the year to come! As Anna says — get Stephanie out of her comfort zone!
Today's workout was a repeat of the first Whole Life Challenge workout to see how far we have come. And I definitely showed improvement which was shocking, considering that it was freezing this morning and I could not for the life of me, get a deep breath in while I was running. I stopped 2x just to try to relax my breathing and still did a bit better than last time. Imagine if it weren't cold how much faster I would have been.
Warmup
1 lap run
50m walking lunges
25m broad jump
25m heel to butt
25m rockette kicks
25m high knees
— x2
10 pass thrus
10 good mornings
10 OHS
10 Whirly Birds
Skill
Review of challenge WOD
WLC WOD
For the CFI Whole Life Nutrition athletes.
800m run
Shoulder Press 1RM You have 10 minutes to find your 1RM for shoulder press.
10 minute AMRAP (Reps)
30 Jump Rope (Single)
20 Air Squats
10 Sit-up (standard)
NO AB-MAT for the sit-ups
totals:
run: 3:56
1 RM: 90#
Reps: 601
It was a good workout this AM. I felt good although it was seriously tough to run with that cold air hitting my lungs. That is frustrating to me but it is what it is — I recouped and ran on.
I was this quote from a very inspiring guy: The Anti-Jared that i wanted to share — "Excuses have more calories than anything else."