Archive for
February 1, 2012
0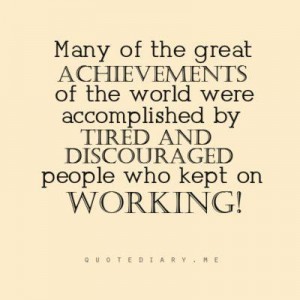 Today's workout was endurance based for me — and yes the warmup was only the warmup. For some people that would be the workout, right?
Warmup
Mobility
400m run (to take advantage of the beautiful weather)
3x
10 OHS
10 Ring Rows
10 Push Ups
10 sit ups
400m run
Skill
Inverted ring Handstands/levers
WOD
15m AMRAP
10 Wall Ball Shots
8 Ring Dips
6 Pull Ups
total: 9+8(wall balls)
As I said earlier – this felt like a good workout. Hard and challenging but it just felt right this AM. I am sore but good sore — and of course the  beginnings of a kipping pull up are in place. Yahoo!
1
Do you ever feel like you are just a hamster on a wheel – doing the same thing day after day and not really seeing progress or results?  Maybe you don't even have a goal in mind except to get through the day – each day. Sometimes you may not even know you feel like that until something happens or you take a break at breathe?  Well I took a 4 day break a week ago and let my body and mind rest.  I realized that I had not had a major 'win' fitness wise or career wise and I needed one.
We are now at Feb 1st – what are you doing to reach your goals that you set at the end of last year? You may call them resolutions but I think that word alone sets you up for failure so I don't use that word — Let's call them goals.  And I think that any progress towards that goal is a 'win', even if its just a few steps forward.
I posted this quote the other day on facebook:
For all those wanting to start making changes in their life: You don't have to see the whole staircase, just take the first step. – Martin Luther King Jr.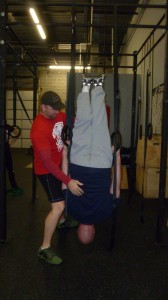 And it's so true — you have to have faith and trust that you will be ok, that you CAN do it.  We all have decisions we have to make that are hard every day — exercising regularly should in theory be one of the easy ones.  The pic to the left is one of the athletes at CrossFit. He's a big dude — no doubt — and look he did a friggin inverted handstand on the rings today.  Do you think he thought he could do that EVER?  Well now he KNOWS he can do that and how awesome is that? What a Win for him today!
For me, I needed a win — I have felt like I hit a wall the past few months. My eating has been off, my workouts have been off and it's a viscous cycle if you don't address it. So on Sunday, during my workout with Kim – when we did pull ups, I started doing the Kipping Motion to help me get through them. Mentally I absolutely took note of it — but didn't want to jinx it and didn't want to mention it until I knew it wasn't a fluke.
This morning's workout had pull ups – and sure enough the Kipping motion was there. Now I did it with a blue band but I will go without once I am used to the technique. THERE IS MY WIN!  See how things come through when you are least expecting it.  I had a great workout this morning – felt strong and ahead of the curve and got my mojo back.
The moral of the story? Don't let your rut stop you from progressing towards your goals. If you need a few days off – take it – get your mind right. The key is to not let it STOP you — you can pause and breathe — and get back to it. It's way harder to stop and start again, mentally and physically.
And to refer back to the Tony Blauer Be Your Own Bodyguard seminar concept of it's all in your head:
Whether you Think You Can or You Think You Can't — You're Right – Henry Ford.