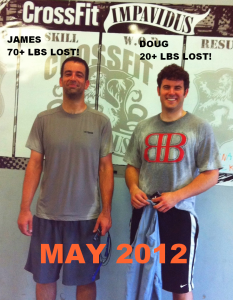 I am so lucky to be able to give back to fellow athletes by leading the Whole Life Challenge efforts at my gym. 40 athletes are 17 days away from completing an 8 week total redefinition program — learning how to make the right choices and being present while making them.
The pic was taken this morning — both of these guys have put in the work and have lost a lot of weight. They look fantastic and both have said they feel even better! Their performance has improved and their overall quality of life is better. And that folks, is what it's all about.
It's not about winning the challenge, although that would be great. It's about living a better life – They are able to do things they weren't able to before and mentally, are stronger because of it. And I get to not only witness it, but have a hand in bringing the solution to them. I didn't do the hard parts – they deservedly own that! But I get to help change people — How can you not feel great after that?
Today's workout was one of those 5 rounders that you know will whip your ass and it did not disappoint.
Warmup
1 lap around bldg
General stretching
Skill
Double Under work
WOD
5 RFT
40 Double Unders
30 Box Jumps
20 KB Swings
22:04  
I did the first 2 rounds with DUs, but switched to single jumps. I couldn't breathe well and was struggling. Instead of stopping constantly – I did 120 single jumps, which trust me, whoops you too!
Make sure you go out there today and be active, walk, stretch, jog in place –whatever– Life is too short to not take care of yourself!