Archive for
May 10, 2012
2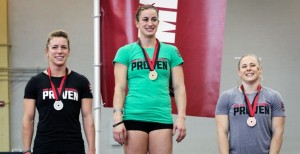 Here are the top 3 women in the CrossFit Mid-Atlantic Regionals this past weekend. Christy Phillips, Jen Jones (top spot), Gretchen Kittelberger. All three shaped very differently, all three strong as hell, fit as hell, determined and focused! Notice how they aren't bulky, man looking women but attractive, fit and strong. They all lift weights — a lot of weight lifted between them. It's a good lesson for all of us women that strength training should be embraced, not run from because of the fear of getting bulky.
We can't escape genetics – there are some things about our bodies that are simply not going to change but you can enhance and maintain them so they become an asset or something that lets you stand out from the crowd.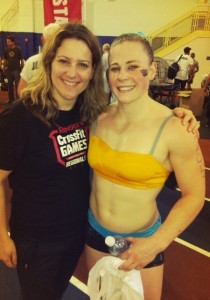 I love Gretchen K. I have met her a few times – she's always so nice and friendly and now that she remembers me– happy to stop and chat. I also like her a lot because I have a similiar body shape. Broad shoulders, big arms, smaller hips. We can't change that – sometimes I wish I was thin and willowy, but that wasn't in the cards for me.  I have spent way too many hours of my life wishing I looked a different way. She inspires me because in the end  – she is who she is and she is strong, pretty and  works her ass off.  Oh and did I mention she just passed the bar and is now a LAWYER!?
She has taken her broad shoulders and upper body and used it as an asset. No one would ever say oh man, she's not fit. She is beyond fit and inspires me everyday to just accept the shape I was given and own it.
She probably has no idea she has helped me with that — but Thank YOU Gretchen!!! Good Luck at the Games — I am rooting for you!!!
I woke up today sore. My hamstrings and calves are yelling at me but I really wanted to work out today. Odd I know, but I was excited to get up and head out. I am not saying I wasn't tired and it would have been easier to stay in bed because that would be a lie —
Warmup
50 Double Unders
Dynamic Stretching
Skill
Snatch – Ugh, Ugh, Ugh!!
WOD
18-15-12-9-6-3 rep rounds of:
Power snatch 95/65
Wallball shots (14lbs)
Knees to elbows
time: 19:24 RX