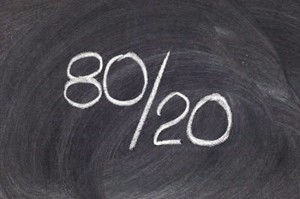 Food fascism and the 80/20 rule
There's no doubt in my mind that a Paleo diet is what we've evolved to eat. That's hard to argue with. But that doesn't mean it's impossible to be healthy while eating foods that are not considered "Paleo", regardless of what the Paleo zealots will tell you. Some of the foods the Paleo diet excludes are more harmful than others, and of course there's a significant amount of individual variation.
I think the evidence is crystal clear that wheat, sugar/high-fructose corn syrup and industrial seed oils are toxic to the body and contribute to virtually all modern, degenerative diseases – from diabetes and obesity to heart disease and autoimmunity. There's also substantial evidence that soy, in its processed form (i.e. soy milk, soy protein isolate, etc.) is an endocrine disruptor and anti-nutrient and is best avoided.
Beyond that, however, things start to get murky. The Paleo diet excludes dairy products and grains. Yet Weston A. Price identified isolated groups of people, like the traditional Swiss Loetschental, who were exceptionally healthy and subsisted primarily on a diet of bread, milk & cheese.