Archive for
June 26, 2012
7
I don't know if you remember when I shared info about the Tony Blauer Be Your Own BodyGuard Workshop I attended. It really taught me a lot about the mental aspect of being in danger and made me much more aware of my own internal voice and how I react to it during certain situations. I also got to meet one of my favorite CrossFitters – Jeremy Kinnick so it was a good workshop for a few reasons. One of the things I wished however after the it was over — was that it went longer than just 1 day.
Well — I am signed up* and ready to go to a 2 day summer camp of sorts called Combatives Camp with Tony Blauer held at CrossFit Rubicon, Vienna, Virginia. Saturday Aug 4 – Sunday Aug 5 10A-5P each day.

I am sure we will be learning a bunch of new stuff but I know that we will indeed go more in depth learning the fundamentals of S.P.E.A.R. System –
The S.P.E.A.R. SYSTEM™ (Spontaneous Protection Enabling Accelerated Response) is a scientifically researched & medically reviewed personal defense measure that exploits the body's natural responses to violence and danger.
I'm told there will be a few special guests including Rodney King, the founder of Crazy Monkey Defense, and Zach Even-Esh, Underground Strength Coach.
You may be saying –isn't this a camp for mostly guys!??  No way — the principles that Tony will teach can be applied to so much more than just combat. Just yesterday, I shared one of his blogs: The 10 Commandments of Street Survival as a perfect example of how your mind can defeat you or help you win in LIFE — not just a violent situation.
Your mind can be your ally or your most formidable opponent. Your thoughts can motivate you or they can create the inertia State of psycho-physical paralysis.
Psychological fear leads to doubt and hesitation. Unchecked it can devolve into anxiety and panic. Unsolicited, a 'Victim's vocabulary' starts: What if I lose? What if it hurts? What if I fail? Thoughts like these must be eliminated from your vocabulary for you to perform at your peak. Your 'self talk' or 'internal dialogue' must be positive, assertive and motivating. Your inner coach must empower you to greater heights, to surpass preconceived limitations, to boldly go where… you get the picture. That is what it means to not defeat yourself.
I am telling you — women should definitely go to a workshop like this. It can give us the advantage we need to be in the game mentally and physically.  And you feel like a bad-ass knowing you can protect yourself if you had to. There is nothing more empowering and powerful than that!
So, Ladies/Guys —go Register!
*Disclaimer: I will be sharing information about and a review of Tony Blauer's Combative camp in exchange for free registration.  My thoughts & opinions will be unbiased & honest as always. 
2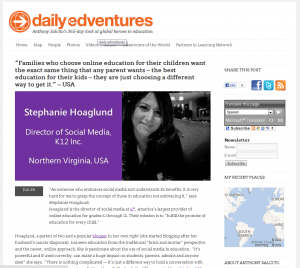 I am beyond honored to be profiled today by Anthony Salcito @Microsoft VP Worldwide #Education as a Global Hero in Education http://ow.ly/bPXWT
4
I have recently become aware of something that I think needs some attention.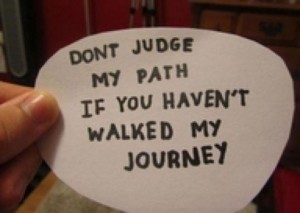 Many of my fellow CrossFit athletes have been working out for quite some time. We get it, we get the reasons why we are doing it. We get the movements. We get the work required to make the progress we want. We get how it works: some days it will suck and embrace the suck. We get it so much that sometimes we forget how hard it is for others out there to get started.
This weekend a friend of mine from years ago tried CrossFit for the first time. She came to the Saturday class, which is free, to give it a try. She did email me a day or two beforehand asking me if I really thought she could handle it. It scared the shit out of her and she just wasn't sure she would be able to handle it. I, of course, told her she would be fine. That all the videos you see promoted are not the real story of CrossFit. The 'real' story are the people who are just like you and me.  Not people who are striving to go be a Reebok Elite CrossFit Athlete.  The majority of those discovering CrossFit are looking for a fun, effective way to stay in shape. If they happen to show promise and are good enough to compete –wow, bonus!
Yesterday, I shared a post about being a Paleo Purist or Perfectionist  The same issues can be said about CrossFit. There are some that believe there is no room for anything but.  I argue there is room for both the elites and the folks who aren't so 'into' it – but are there to get a good workout and then go home and get on with their day.  As long as everyone is doing the movements using the right technique, safely then they can work side by side. The level of suck depends on them.  What is their own level of intensity.
My friend who came on Saturday –the workout was a tough partner WOD. It was hot and humid and we had to run 600m together holding a 25# plate, then do 100 alternating box jumps, 100 sit ups passing a 25# plate, 50 pull ups (partner assisted), and then 100 leg throws (partner alternating), then finish it off with a 600m run with that darn plate again. Now –imagine being brand new, just starting a fitness program and you are faced with that? It's daunting, scary and down right crazy. Well you know what? My friend –she did what she could and did great. I partnered with her — We did a slow jog/walk for the 600m and I held the plate for most of it — then the box jumps: she stepped up as many as she could, taking breaks as she needed. Sit ups –I didn't pass her the plate and she did as many as she could and she ended up doing 1 pull up that I assisted with her. She was done after that! And that was OK! Her level of suck was there —
Keep in mind she hadn't worked out in a long time–that Workout was hard for even the folks that have worked out! She was fairly broken and upset at the end thinking she didn't do well. She did GREAT! I was beyond proud of her. FIrst, to get her ass in here, sight unseen to begin to make changes in her life. That's great. Then, to try something new fitness wise that, if we are being honest, is a bit intimidating – is even better than great. It's Awesome!  We all have to start somewhere…
She is coming back this week to do an intro and I asked that she give it 12 weeks. If she doesn't get it after that –then CrossFit isn't for her! Plain and Simple!
And this morning, we had someone return that hasn't been here since September. I have no idea what was going on in her life that kept her away but who cares? She came back and gave it her all this AM. That is Awesome too!
We all have to start somewhere… and I think what happens is that long time CrossFitters lose perspective and patience for newbies. It's not easy to decide to give it a try, let alone make a lifestyle change. For them to walk into the door takes courage and they deserve attention and recognition for that and even more they deserve a coach's patience and experience when needed.  Even more so, they deserve fellow athlete's support and encouragement as they learn the ways of the CrossFit. (Think Yoda here…)  Because, let's face it, we were all newbies at some point in our athletic journey.
I think I am sensitive to how hard it is because it was only 4 years ago when I arrived at a boot camp and couldn't do one push up. I remember how hard mentally that was for me and how daunting the work that was going to be required to progress.  It still is daunting, depending on the day, but I know what the work required feels like and have enjoyed the success of meeting some of my milestones.
All I am asking is for the fellow CrossFit community to be aware of how hard it can be for some people to just even walk through that door –so your support and words can really make a difference. It can be just what is needed for them to continue on, fighting for their lifestyle change and getting better.
I am planning on doing some videos of REGULAR people getting their WOD on so others know that people just like them are getting it done too! Watch for those soon!
Now, Get it Done!!
Warmup
5m Double Unders
Dynamic Range of Motion (DROMs)
WOD
Front Squat (1 rm) 5,5,5,3,3,3,2,1,1
155#
Tabata Situps
117