Archive for
July, 2012
0
So about a year ago, I did Nancy and went really light. Today, we did Nancy and just felt off again –so went 55# instead of 65#.  Running is not one of the best joys of my life and Nancy has 5 rounds of 400m. I have been working on my new breathing technique and I have to say, it has it been working. I have to get used to it and the rhythm of the breath, but once I do — I am not as exasperated as I used to be.
warmup
400m jog
10 OHS
10 Pass Thrus
10 Squats
skill
OHS
WOD
Nancy
Five rounds for time of:
400 meter run
55lb Overhead squat, 15 reps
time: 17:32 
I am happy with my time overall. Under 20m is a good benchmark for anything with 5 rounds and running for me. I also mentally was dreading this WOD. I'm not sure if it's the summer weather or just a mental issue, but my running seems to be getting harder and slower and more un-enjoyable.  I need to figure out how to snap out of it!! SNAP OUT OF IT!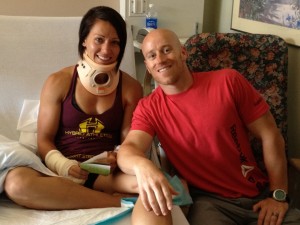 Read this blog post about how CrossFit and being strong and healthy can save your life —  I just don't know what to say after reading this about Miranda Oldroyd.  Because she was in shape, fit and strong already, her ability to prevent a more serious outcome was tenfold. This is the reason why being FIT really matters.  Protection against serious injury and illness.
So — hopefully that will give you all something to think about as you keep considering starting a fitness program. There are bigger reasons than looking good in a bikini at stake…