Archive for
July 2, 2012
0
My wrists have been fatigued and sore. We have some front squats and push ups recently and I think it has led to a bit of strain on those wrists. I don't do nearly enough mobility and I type all day long at my computer — so I read some good advice about taking care of the ole wrists:
It's true. The receiving position of full clean can be brutal on your wrists, not to mention front squats and the worst of all, thrusters. It's not uncommon that athletes end up with some sort of wrist tweak from one of these movements from time to time.
There are a few things that you can do to PREVENT significant wrist hurtage.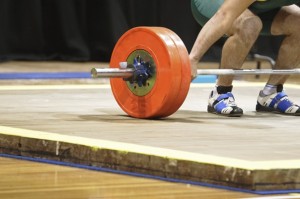 1) Warm up your wrists! These poor boys are the linkage between your 400lb front squat and your hips. Be cool and show them some serious love before you start red-lining. Think of your wrists as conduits for some very high tension wires. Most of the time for wrist neutral activities, you can count on your wrists not needing much care and feeding, but as soon as you even start thinking about some high speed wrist extension some alarms should start sounding.
-Be sure your core temperature is up. If you have a sweat going, chances are you're wrists are warm enough too. Cold tendons, confined tendon boxes (wrists), and at high speed is uncool. Very un-dude.
-Start your wrists slowly (not dynamically) into the position of emphasis. You'll probably notice that just getting into a front squat rack position is a little tough on your wrists. So don't go jamming them into a challenging position with an additional speed insult. Doode, be cool.
-Give your wrists some slack. Make sure your thoracic spine is mobile enough that you don't have challenge your wrist positioning unnecessarily. (see below)
there are even more tips at the San Fran CrossFit blog. Check it out…
0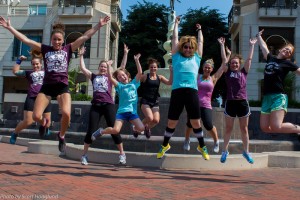 As promised here are the pics from yesterday's Flash WOD at Reston Town Center. Scott came and took a bunch of photos of our box. It's like we have our own private photographer for events.
And as you can tell – we have the most fun together. It's one of the best things about our gym – we really do have fun and laugh a lot.
I coached the early AM class this morning and I gotta tell you — I need practice. I can handle the class dynamic but I'm still new at actually coaching certain movements. The one thing that really helps is doing a lesson plan. I didn't do one this AM and boy — I wish I had. Lessons learned. From now on I will absolutely create a lesson plan to help me guide the athletes.
We had the craziest weather on Friday. People are STILL without power now on day 4! I feel for them with the heat we have been having in the DC area. Kim and I were driving through it on the way home from the evening parade and didn't even realize the craziest until we were in the storm on the Dulles Toll Road. Talk about getting a wake up call. It felt like it was a tornado or hurricane with the wind. And lo and behold, it caused some serious issues — with power and downed trees. The oddest thing was it was like a 15m story. Mother Nature sure knows how to wake you up!
Now-make sure you stay hydrated and use sunscreen if you are outside! It's too darn hot and it's too darn easy to get dehydrated. If you think you have had enough water, drink some more!