Archive for
July 9, 2012
0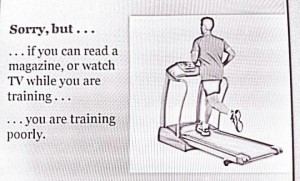 Yesterday I did CrossFit Total — 1 RM Back Squat, Shoulder Press, Deadlift. I didn't do my normal weight with the first two but ended up with a 235# PR on my deadlift. Not everyday and every lift will be a PR. I felt pretty good about it all.
Coach Nick also introduced me to doing pull ups with a weighted belt. It's actually a strap that holds a KB down your leg, like you have a set of balls. It was awkward but definitely made the pullups harder and will help me get stronger!
Nick also suggested getting a lifting belt so I ordered an Elite FTS belt. Should be interesting to see how this goes…
Today it was so frickin hot –we were sweaty just walking in the door. It was the type of WOD that is all about skills- you need mad skillz to do it!
Warmup
800m run
bear crawl
Crab Walk
Bounding
Walking Lunges
DROM
Skill
WOD
12 min AMRAP
12 Push Press 115lb
12 Pull Ups
12 Pistols (6 ea leg)
total: 3+24