Scott and I did a WOD together yesterday evening. Death by 10M and then Tabata sit ups. Yeah so not fun but so necessary.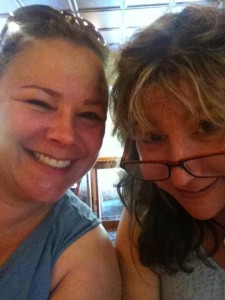 I did a special workout this AM — for coaches that was called a chipper. You keep chippin away at it until you are done —
"Chipperson":
10 GI Janes
20 Push Press 95/65
30 OHS 95/65
40 Deadlifts 95/65
30 Pullups
20 Lunges with bar on back 95/65
10 Hang cleans 95/65
*Must run 400m sometime during the WOD
I finished in 15:21 but in all fairness I didn't go heavy. I kept it at 53#. I am STILL feeling the deadlifts on Tuesday. It was still challenging.
I had never done GI Janes before — you do a burpee and instead of jumping, you jump to the bar and do a pull up. Yeah so so fun!
I'm off to help get my kids ready for their first time at sleep away camp. I'm scared, nervous, excited and worried all rolled together! What I am going to do without my kiddos for a week??