Archive for
July 19, 2012
0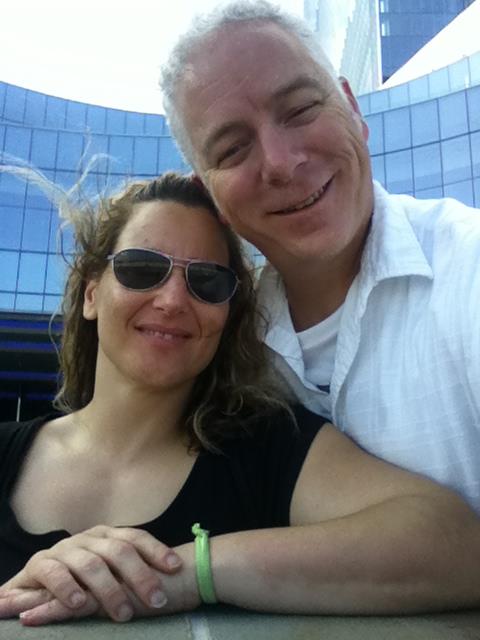 I'm baaaackk!!! It was a good few day break away from my busy life. I love my life and all that I have going on, but sometimes it all gets to be so much that stepping away to just disconnect does so much good. We had no responsibilities, no kids — and could just take our time. I even went out one night at 12A – went out and went dancing like I was young. How crazy am I?  I crack myself up –and in all honesty, I had to be talked into going because I was tired!! I am glad I went though – dancing to the beats of DJ Jazzy Jeff at Dusk at Cesears at Atlantic City was so worth it. DJ Jazzy Jeff played old skool with new skool and in between and we danced straight for 2.5 hours before we crashed.
I love this pic of Scott and I. We look relaxed and happy. I also like my definition that is showing through in this pic. Sometimes I need to see stuff like that to help me combat the voices that get stirred up by having to get into a bathing suit on the beach.
A thought about my trip related to health and fitness — Once again being in a touristy spot I am reminded about how out of shape and unhealthy people are. There were so many seriously overweight people all over the place. Many of them were past the point where they could even walk so they were on scooters up and down the boardwalk. Now I get that some people have some serious issues that prevent them from keeping their health in check. But what I saw the past few days was a lot more diet related issues — people eat like shit. I can't help but think that they don't even realize how bad they are eating. We are all taught wrong!
I was listening to a radio show the other day and one of the ladies on the program talked about how she is working on losing some weight and how she is bringing her lunch — cottage cheese, whole wheat bread with some deli meat — It occurred to me that what she brought was the same stuff I used to bring for my healthy lunch. Now that I know better – I no longer eat much dairy and bread is another word for poison in my vocabulary with the gluten it contains. I know there are a ton of people out there just like her thinking that what she is eating is healthy –and many would disagree with me completely and say it is. I would just say read and research more into what that stuff does to our systems and then make a decision. I know now — how that stuff makes my body feel after I eat it and I know without a doubt, it's not a good feeling. Once you detox, your body will let you know what is working and what's not. I promise.
In true fashion, I headed for my workout last night because after a few days at the beach, I needed to move. It was a hard one too but because it had running in it — I totally needed it.
warmup
CF Endurance drills
Dynamic Range of Motion
skill
thruster
wod
8 RFT
200m run
8 thrusters (65#)
18:50 time
Then I got up this AM and headed in for my normal 6A workout:
warmup
800m run
mobility
skill
push press
kb swings
wod
12 rounds/3 reps 60% max Push Press
65#
tabata KB Swings = 82reps