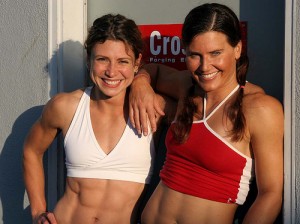 Today was one of the ladies that i have never met before — EVA! Who is Eva you ask? Well the famous CrossFit Eva is Eva T, a 2x Olympian 6x national champ WC Bronze, world tech champ 96, masters national weightlifting champ 2007 – national records – c&j and total. Recently inducted to the US Ski Hall of Fame. She is one strong, hot chick and her workout suits her.
Warmup
DROM
Suicides
WOD
EVA 
Five rounds for time of:

Run 800 meters,
30 Kettlebell swings
30 Pull-ups
Time: 1/2 Eva 27:19 RX
1/2 Eva is 5 RFT, 400m run, 20 KB Swings, 20 Pull Ups and that's what I did — no band! It was all me pushing through!
Can you even imagine? Yeah, me neither — Coach Conan asked us to all do either 1/2 Eva or 1/4 Eva because of time.  And 1/2 EVA still hurt!