Fall is here. Its a bit crisper outside. Northern VA in Fall is one of the most beautiful places to be. The leaves turn colors and since we have a lot of foliage –the landscapes look like paintings.
For all you Gen X'ers or Boomers — READ THIS!
Each one of the eight reasons resonates with me as true. I hear all the time that people need to get in shape before they try CrossFit. That is such b.s. — come as you are and follow the program.  I tell the newer, more out of shape athletes to just show up and MOVE your body. That's it — MOVE. MOVE. MOVE! The other benefits will follow but you are required to show up!
I was looking forward to today's workout for a few reasons —
it wasn't a super heavy weight and
it was a met con (under 10m)
The combo of those means that most likely I could kick ass instead of struggle with each workout.  I like the struggle but sometimes you need a win. That one workout where you just go all at it, you feel like you can conquer the world and you finish strong! Today was my day for that!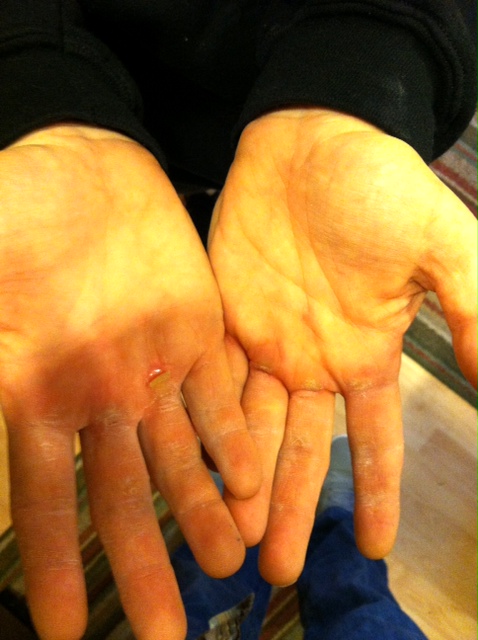 Of course I have the hands to prove it!  I feel strong today! I needed it badly after this week of emotional ups and downs.
Warmup
DROM
1 lap jog
drills
skill
thruster
WOD
15 Min AMRAP
10 Thruster (65/45)
10 Pull Up
8 rounds RX!