Do you use Pinterest? I have a Pinterest board full of good stuff –its a great way to bookmark things around the web you like or want to go back to. I love this idea of a virtual bulletin board — very creative and handy.
October is National Bullying Prevention Month
sponsored since 2006 by the National Bullying Prevention Center. 
This month is Bully Prevention Awareness month and as someone who was bullied when I was younger – I realize how important it is for parents to be the ones to put a stop to it. Here's an interesting infographic about bullying. 1 in 4 kids are bullied each and every month in the US. How can kids learn and feel safe in school when they are feeling threatened and scared? Not to mention the hit their esteem takes after suffering through it. Things are very different now a days –in good and bad ways.  Social Media wasn't around when I was growing up so the bullying had less forms to take but no matter the tactic, it hits hard and leaves scars for years if not forever.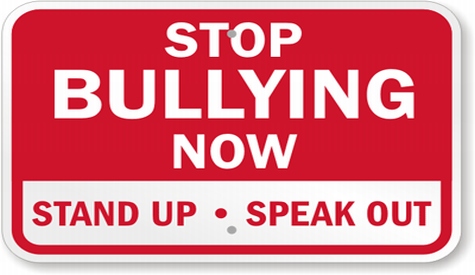 I remember clearly how the parents of the kids that were bothering me wouldn't own up to their kids' behavior and wanted to just play the blame game. No one is perfect and looking back, I think each parent needed to focus on their own kids and their behavior. As a parent now, the minute I find out about one of my kids misbehaving, it gets addressed.  We talk about right and wrong — and how feelings come into play and what we as their parents think is acceptable and what we don't. It is never ok to hurt someone intentionally — never, ever and I do not accept that behavior from my kids. You have to lead by example and be clear about expectations. My kids will never be those kids — visit the sites below to get informed and involved.
Today's workout was a strength bias. And Dead Lifts were on the menu. I love Deadlifts! 
warmup
300 single jump ropes
50 DUs
10 Handstand holds
DROM
skill
deadlift
WOD
165,185,195,205,215