Filthy Fifty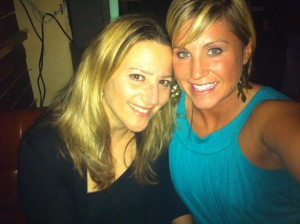 I went out with some of my friends last night and had a blast. They were full of energy, positivity and fun. We did a lot of laughing, a lot of dancing and for some –drinking.  I knew that today would be a tough day physically for me, so I didn't drink but to their chagrin I think.  I gotta tell you though — the only thing that was rough was being out so late because getting up this AM was not as smooth as it usually is.  But totally worth it!
Today was CFI's Oktoberfest — we did the Filthy Fifty WOD and then ended with a Potluck full of mostly Paleo food! Don't make that face, the food was really really good!
Filthy Fifty
For time:
50 Box jumps 24 (inch box),
50 Jumping pull-ups,
50 Kettlebell swings (1 pood),
Walking Lunge 50 steps,
50 Knees to elbows,
50 Push press (45 pounds),
50 Back extensions,
50 Wall ball shots (20 pound ball),
50 Burpees,
50 Double unders.
time: 31:11 
I am beat — no other word to describe how I feel. But, tomorrow is a new day! Get out there and hit it again!