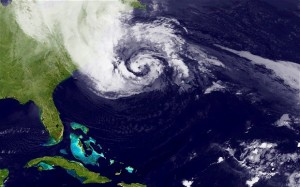 So here we are — waiting out Hurricane Sandy. My kids have today and tomorrow off from school and are already stir crazy. It is raining and we hear the occassional wind gust but nothing major — yet. The news keeps saying that the worst for the DC area will happen in the evening through early morning with heavy wind and rain. This should be interesting. We are prepared with supplies. Not much else we can do except wait.
CrossFit was closed this morning but since the storm didn't yet come through, Coach Conan opened the doors at 10A for a few hours. I headed over and did the workout of the day with the rest of the crazy fitness freaks! Hurricane or not — we need to WOD.
warmup
DROM
2x
10 wall balls
10 pass throughs
50 double unders
10 push ups
WOD
20-15-10
time: 4:56
Remember – as crazy as many of us are to get fitness in, it is NOT worth risking your safety. If it's bad out there, don't risk heading out to get a workout in.  Safety First, WOD Second.
Here's some good info for weightlifters to read: