Scope it Out 5K
This year is a big year for my family.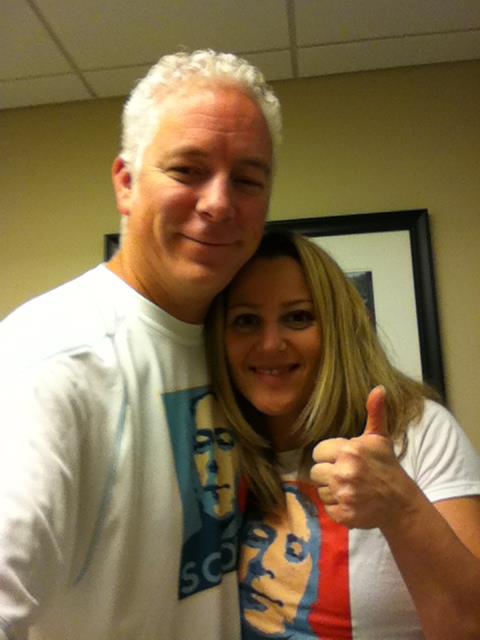 The beginning of Summer 2008, my husband, Scotty was surprisingly diagnosed with colon cancer and had to undergo surgery to remove half of his colon and a year of chemo -that had us spending all day, every other Tuesday at Georgetown Hospital and two days at home with a chemo pack.  During the entire process, Scotty was an amazing fighter — continuing to work as much as he could and staying positive and keeping his amazing personality in tact.  The cancer story is followed in my original blog: Colon C – The Journey
This July, it will be FIVE years since that diagnosis and for colon cancer that's a big deal. That means we can put a period at the end of it and call it DONE.  They consider it cured. Now to put things in perspective — cancer changes everything about you and your family so while the cancer is gone, the changes it makes to you are lifelong –good and bad.
Colon cancer, if detected early is very curable & awareness of its signs and symptoms is vital. Anything we can do to help someone else become aware and informed BEFORE — we are on board.
Last year, we put together a team: Live FIt and Sore! and managed to raise a lot of friggin money for Chris4Life Colon Cancer Foundation.  We raised $5600!!!
I don't particularly like setting a goal for $$ amount because I appreciate each and every donation whether it's a big amount or not! So — I'm going to give it a go again this year and see where we land.  I also as a practice don't ask anyone to support any cause –this one is so near and dear obviously that I make this one year exception.
Last year we had the best time running the race and having brunch afterwards.  You can join us for the run this year, donate to our team, and/or raise some money for our team!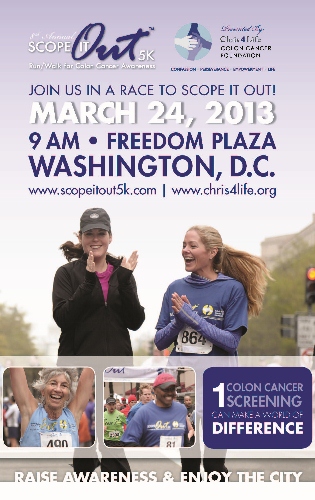 Join the Chris4Life Colon Cancer Foundation in the heart of Washington, D.C. for one of the largest annual colon cancer awareness events in the country – part of National Colon Cancer Awareness Month. The race course starts and ends at Freedom Plaza and will take runners and walkers up scenic Pennsylvania Avenue to the U.S. Capitol, bringing the Scope It Outmessage to the doorstep of our nation's decision makers.
When: March 24, 2013 at 09:00 AM
Where:
Freedom Plaza
1350 Pennsylvania Avenue NW
Washington , DC
Join us or Make a Donation to our Team