crossfit
0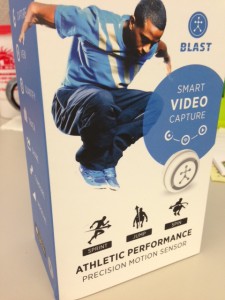 One of the unplanned perks of my blog is that nice business owners send me products or samples from time to time to try out. I get lots of offers for products and I definitely pick and choose which ones I accept. If it doesn't align with what I believe or am about – then I don't accept it even when most times, the vendors do not place any sort of expectations on accepting the product. For example, diet pills are not something I would ever review, recommend or promote. It's not a part of living a healthy and fit life according to me… so it would be a no go.
The latest product I have been sent is from Blast Motion. It's a Smart Video Capture tool that allows you to analyze, compare and share your movements.
From their website: Blast Athletic Performance
The easy to use app not only records as you move, but allows you to share your highlights instantly with friends.
Precision Motion Sensor easily and securely attaches to the waistband of your clothing
Connects to your iPhone, iPad or iPod via Low Energy Bluetooth.
Smart Video Capture tracks metrics while you move.  Video is saved into your personal history as shareable clips synced with movement data.
Detect key events and identify trends by viewing movement history.
Capture performance metrics and detect key events like acceleration, rotation and jump height.
Tracks and stores moves when the sensor is out of range
Instantly share your stats via Facebook, Twitter, and E-mail without leaving the Blast App.
I downloaded the app for my iPad/iPhone and am connecting the sensor to my tablet today. I can see this being a great tool to help with my oly lifts and some other HIIT movements. I will post a follow up with my thoughts in the next week or so, so stay tuned!
Thanks to Blast Motion for sending me the Athletic Performance Precision Motion Sensor.  Even though I received it for Free, there was no expectation on their part to influence my review. My opinions here are my own. 
Related Link: Initial Press Release: C Spire and Blast Motion Partner to Offer State-of-the-Art Motion Technology Products to Improve Athletic Performance