Fitness/Exercise
0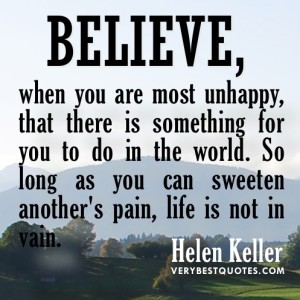 Believe, when you are most unhappy, that there is something for you to do in the world… Helen Keller
I've been doing some more soul searching the past week –
The past few days have been pretty stressful. Scott's mom is in the hospital. My dad and step mother got into a car accident this past weekend. Their car is totaled, they are banged up but going to be OK. The thing is, experiencing your parents' getting older is tough especially when they didn't take particularly great care of their health in general. It's another reminder that lifestyle definitely catches up with you as you age.  And when you are experiencing it from a distance – it's hard to really see how bad a situation is. You have to rely on your parents to tell you what's going on. Reality is different depending on the filters we put on.
In other stressful news, Scott and I are both not feeling well with different maladies. Nothing too serious but enough that we both went to the doctors last week and are on meds. And to top it all off – Scott's car broke down on Friday evening and a bunch of money $$$ later, the car should be fixed by tomorrow.
All of this has me thinking about what I really want out of life and why am I not feeling as happy as I think I should be?
Career wise: Do I want to continue heading into an office and working for someone else? The culture and company I am looking for based on my experience with my last position is a lot more clear than it has ever been. The issue is, I'm not sure my current situation is meeting the requirements as I had hoped it would.  In the past 90 days of me starting, there have been a ton of changes and restructuring. Things I didn't know about when I accepted the position. The changes aren't really in line with my background, interests or what I was looking for. It's disappointing to say the least. I was hoping to be able to grow, learn, be challenged and thrive in this environment. At this point, it's not really looking like many of those opportunities exist. Never say never, of course, but having learned my lesson at my previous job, I realize that if it doesn't feel right, I need to explore options.
I am stressed out and feeling a bit lost. Life sure doesn't stop for you to catch your breath…
Read This
Watch This
Louis C.K.'s Shocking 'SNL' Monologue Compares Child Molesting To Eating Candy Bars