Health/Nutrition
0
I have had a series of recent light bulb experiences that have thrown me for a loop and served me a helping of reality…
Ack! My Parents Are Getting Old
I have 4 brothers and sisters and we have a half sister that is quite a bit younger. My Dad has been married to her mother since I was 6 – so a very long time. Since the early 90's, my dad and step mother have lived in the Phoenix, Arizona area. Their health is failing and they have had serious financial setbacks for a myriad of reasons that I won't go into. The bottom line is they can't afford to stay in the Phoenix area and none of the family lives nearby. So, they decided to move to Ohio to be closer to their daughter, my half sister and they arrived there last week.
Seeing pictures of them during their drive out to Ohio shocked me. You know how you have this vision of your parents? Well, my vision didn't match what I saw and it was a jolting reminder that time marches on and my parents are aging. Scott and I are very lucky to have both sets of parents still around – but health problems are starting to creep up and the unstoppable hands of time are spinning.
Seeing them look so frail, was a great reminder to me why taking care of my health and wellness while I am young is important. Exercise, eating healthy and maintaining a positive attitude towards any situation will go far as you age. Trust me on that one! Seeing the differences in how my parents are aging based on their life outlook and how they have taken care of themselves has been very educational for me. It's night and day.
Oh No! I'm Feeling My Age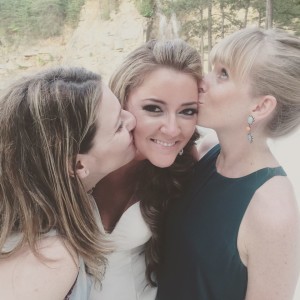 Britt's wedding this past weekend was beyond lovely.  Not sure if I have mentioned, but Britt is a bit younger than me – and hence, the wedding crowd was young. It was one of those experiences where I felt old. Not old enough to be a granny or anything, but old in the sense that I really didn't want to 'hang' out. It's not a bad thing  — the wedding guests were nice but I don't enjoy drinking and getting shit faced and it takes me forever to recover!
On top of feeling old at the wedding, yesterday, my tween daughter sent me pics her friend took of her (included below). Talk about feeling my age – she looks so grown up. How the heck did my little baby become a young woman? And to boot, she is about an inch or less away from being taller than me. She just seems so grown up.
It's inevitable-we age, grow up, become adults, get old and eventually we will pass. The reminders this past week have left me feeling somewhat blah and melancholy about things around me.  I will get out of my funk but it was an abrupt wake up call…
Life is short.
Act with good intentions.
Say what you need to say to those you care most about.
Cherish the moments.
Be Kind.
Laugh a lot.
Spread Love
Responsive Photo Gallery Powered By Weblizar