Parenting/Family
0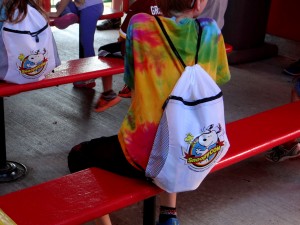 Saturday, after Nate's football game and my workout, we headed to Kings Dominion to check out their Planet Spooky event*. I wish we had left earlier to avoid the horrible traffic on 95 and of course there was an accident so it took forever – but we got there eventually. It was a gorgeous day too — upper 80s, maybe even 90.
When we arrived, we picked up our tickets at Guest Services. Along with the tickets, they gave each of us with a Planet Snoopy drawstring bag – which HB and Nate loved! Looking at the time we had, we decided to check out the Dinosaurs first.
Trick or Treat with the Dinosaurs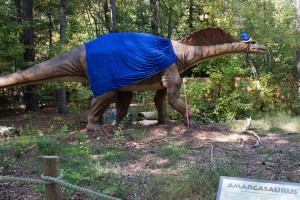 I have never seen this attraction before, so it was cool to see these gigantic dinosaurs complete with sound effects and movement. As you walk through, you get the feeling you are actually walking around where Dinosaurs actually live thanks to the all the special effects. As you are walking through, they have trick or treat stations where they give out candy and/or other treats.

Oh, I forgot to mention that some of the dinosaurs have their own specially fitted costumes – one was a wizard, one a clown, one a bunny…
Kings Dominion charges an extra $5 to do this attraction – if you haven't seen this attraction before, it's pretty cool. Very realistic looking dinosaurs and candy for the kids. (They did have non candy treats available upon request.)
Then we headed to Planet Spooky in the younger kids area – we didn't get to hit all the special attractions set up but the ones we did – the kiddos loved including the Pig Pen's People Washer: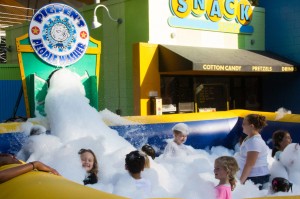 All the normal rides were open too – so the kids drove the cars, went on the swings and the mini-roller coasters and the lines weren't long at all.
As part of Planet Spooky, there was a petting zoo set up with Polish Chickens, Baby Pigs, Goats and more. The Polish Chicken seemed to really get comfy on my arm –falling asleep for a few seconds.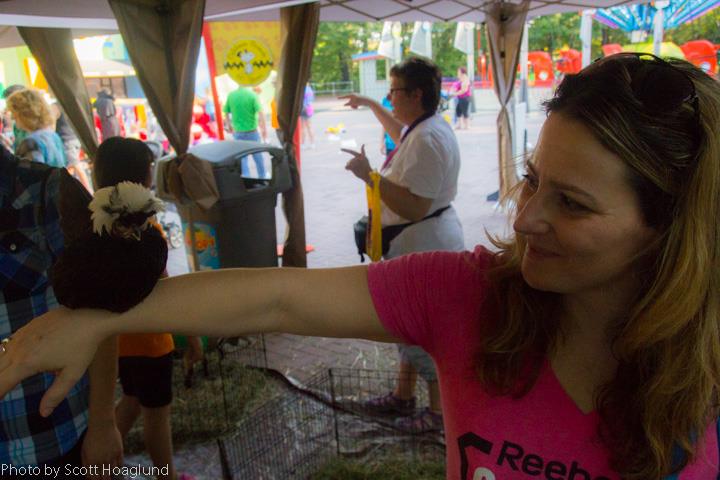 As the day was winding down, the kids kept asking if they could stay for the evening attraction of Haunt. They could handle it they said. So around 630P, the park started to get foggy, the lights were going dim and by 7P -the park was transformed into a spooky, creepy haunted park. As we walked through and hit our first zombie, HB went hysterical with fear. Guess what? She couldn't handle it –and we high tailed our butts out of the park as she had a mini-breakdown the entire way out.  They have zombies walking throughout the park so as we were leaving, one in particular zeroed in on her fear and went for it. HB fell to the ground super scared — and it was over. We couldn't get her calmed down. I had to take her off to the side, near a store entrance and tell her to pull it together – didn't really work well but well enough to get us out of the park. As a side note – Nate was fine. Go figure!
If you are looking for a fun family road trip – go for it. The lines were short, lots of kid friendly and adult friendly stuff to do – and with the weather the way it has been in the DC metro area, it's a great experience that the kids will love.

Planet Spooky at Kings Dominion.
Families can enjoy Halloween together with a street party of frightful fun including a petting zoo, foam pit, pumpkin painting and more! Planet Spooky runs every Saturday and Sunday from Sept. 28 – Oct. 27. Activities are from 12:00pm until 5:00pm.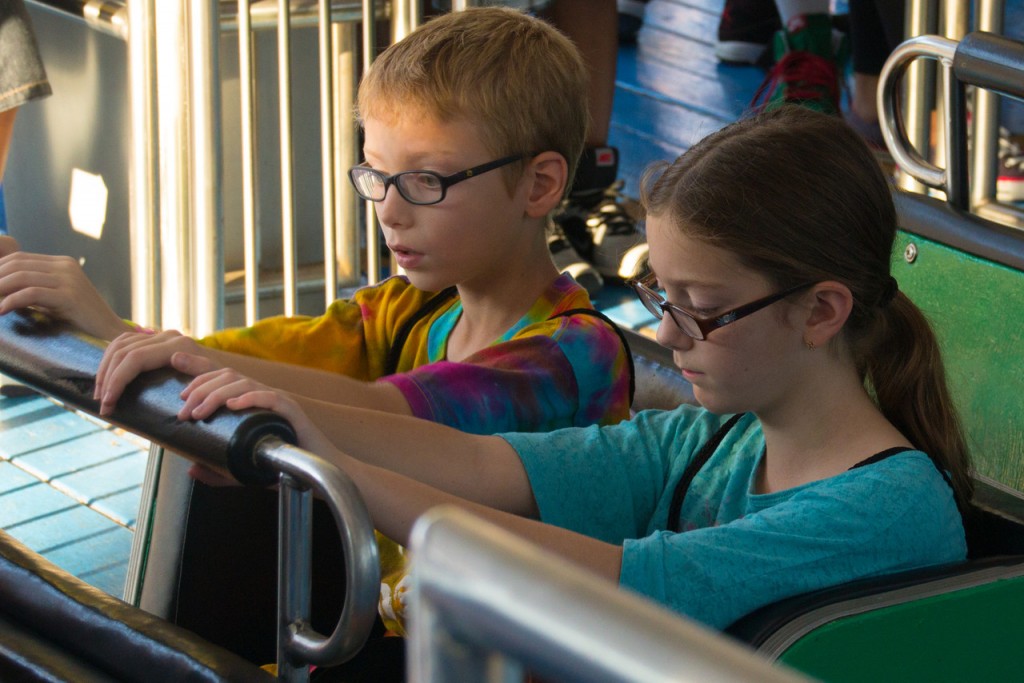 *DISCLOSURE: The great folks at Kings Dominion provided my family with free tickets to attend Planet Spooky and Trick or Treating with the Dinosaurs. They in no way requested that I share a specific viewpoint or details of my experience in exchange for the tickets. My opinions and recommendations are my own.