Reviews
0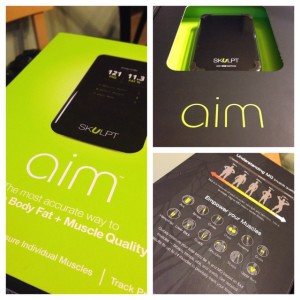 As I mentioned recently, I was sent a new device to try out called Skulpt Aim to test.
The Skulpt Aim uses a technology called electrical impedance myography or EIM. 'Myography' literally means "The description of muscles." EIM measures two separate features of the tissue: its resistive properties and its capacitive properties
Skulpt Aim measures body fat percentage and Muscle Quality (MQ). One of the first questions I have been asked is what is Muscle Quality (MQ)?
"MQ, or Muscle Quality, is a rating of your muscles' fitness that was designed to be intuitive. Aim uses EIM technology to send a small current directly through your muscles. It uses 12 sensors and multiple frequencies to get very accurate readings. Since current flows differently in muscles based on their composition and muscle fiber size, Aim is able to evaluate the quality of each muscle.
Similar to the IQ scale, the average person has an MQ of 100. Higher MQ scores correlate with stronger, leaner, more defined and firm muscles."
So in layman's terms, the higher over 100 your score is, the stronger, leaner and more efficient your muscles are.  Higher numbers mean better fitness.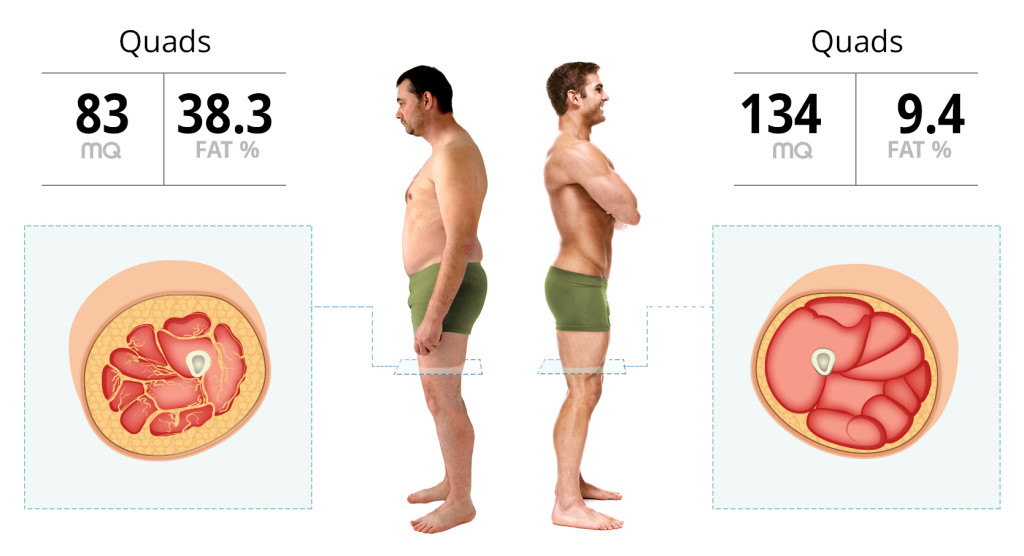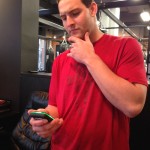 When it arrived, I took it out of the box and found it pretty easy to set up. I put the device on the charger for a while before testing as recommended. To see how easy it was to use, I decided to have my boxing instructor Connor try it out. Without telling him much about it overall, I showed him the Skulpt website and let him figure it out.  It took him only a few minutes — and he began using it.
To get started, he watched some of the videos to learn how to properly measure using the device.  It's different for males vs females.
How to get your Total Body MQ & Fat percentage
To measure your body's MQ score and fat %, you'll need to measure four areas: biceps, triceps, abs, and quads. There are videos available to help you learn where to properly place the device to get accurate readings.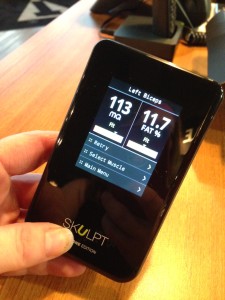 It took only a few minutes to measure and what's cool is there is a Skulpt app available to help you track your stats so you can see progress as you continue to work towards reaching  your strength and fitness goals.
My instructor/tester, Connor, thought it was useful and cool. It gave him an idea of where he was at fitness wise – which for the most part, was right where he should be. There were a few areas that were not quite where he felt they needed to be and in his words "I have some work to do."   
Connor will retest in a few weeks to track his progress as he puts in the necessary work…
Here are some recent articles about this revolutionary device:
My initial thoughts: For people who thrive when they have actual data at their fingertips while working towards their fitness goals, this device helps you see if your workouts really are making your body stronger, even if the scale isn't budging!  And it's easy to use and you can track it  — this is the kind of info that we never really had at our fingertips. Now you just need this device and a few minutes –and you get accurate readings to help you adjust your fitness programming or goals as necessary.
This is really the future of fitness – being able to track and evaluate how your fitness program is working at the touch of an app whenever you want to evaluate your progress. I love it.
Thanks to Skulpt Aim for sending me their device.  Even though I received it for Free, there was no expectation on their part to influence my review. My opinions here are my own.