Reviews
1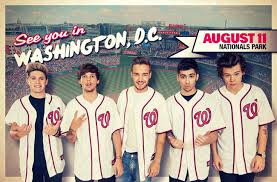 A few weeks ago, I took HB to her first concert - One Direction at Nationals Stadium. It was just as you would imagine it would be — lots of young girls, screaming, crying, singing along in their 1D schwag. There were a ton of Moms bopping along and Dads sitting in their seats wondering how they got roped into taking their daughters.
I'm not going to lie — I really enjoyed the event. It brought back a lot of memories of being a Duran Duran loving tween. And my 12 year old daughter LOVED it.
I took a lot of photos during the show – click on the concert pic below to see my One Direction photo gallery on Facebook.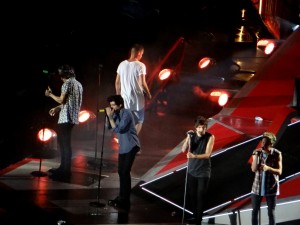 One Direction "The Looks Collection"
One Direction seems to be taking over the world just like Duran Duran did in the 80's.  Case in point, just released: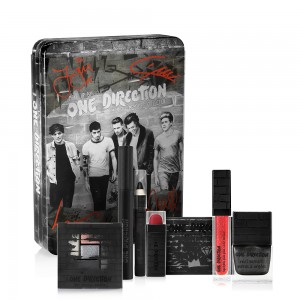 The affordable limited edition One Direction "The Looks Collection" cosmetics collection was created to be fun and bold and a tad mischievous – like Harry Styles, right?
Backed by Markwins International, it's now available at Macy's! I was asked to spread the word about a special giveaway to win one of these really cool Looks Collection sets autographed by the band. That's right – signed by Niall, Harry, Liam, Zayn and Louis!! How happy would you or your daughter be if you won!? Details and entry method info are at the bottom of this post.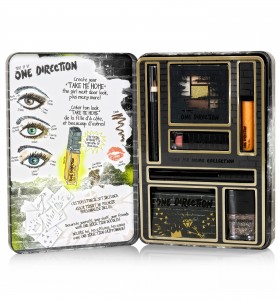 "The Looks Collection" comprises three keepsake tins inspired by One Direction's globe-conquering albums, "Up All Night, "Take Me Home" and the latest chart topper, 'Midnight Memories." Each tin comes complete with everything you need to show off your personality. Are you a rock n' roll girl, a fun party girl or the girl next door? We have just the right collection for you and illustrations to help show you just how to get your perfect look. All your beauty essentials are housed in a LIMITED EDITION collectible keepsake tin with removable sleeve, complete with ONE DIRECTION doodle stencils to decorate your keepsake tin and make it uniquely your own! "
Win a Looks Collection set autographed by the band!
Giveaway Details:
If the giveaway widget doesn't load, click here. 
---
Thanks to BrandBacker for sponsoring this post & offering me an opportunity to spread the word.