Posts tagged
aurora
0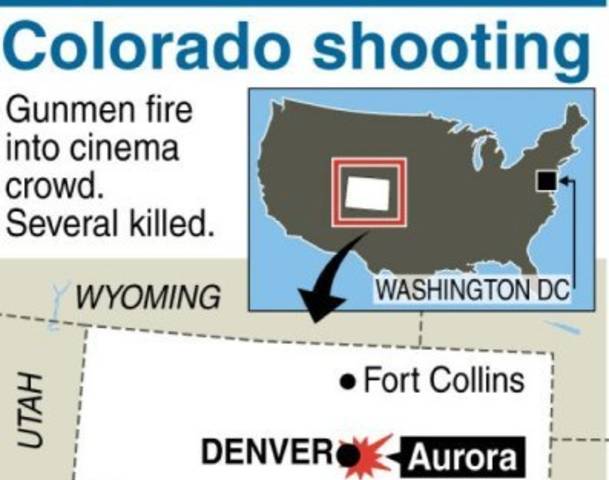 Today was one of those days that makes you remember how precious and short life can be – those people were going to see a movie. For some, they probably couldn't wait which is why they went to a super late showing. Batman – the blockbuster sequel, part of a bunch of super hero movies people can't wait to see.  So, they made plans with friends and family, got dressed, probably bought some popcorn or snack, found their seat and settled in for the movie — a scene we all have experienced.  No one in their right mind would ever even imagine what happened — but yet it did. It's horrific, tragic, senseless, lacks any sort of rationale, in comprehensible, really.
Events like this shake us all to the core — remind us that we live in a world where there are a lot of people out there with a lot of shit going on in their heads. Most of it is harmless shit, but lurking out there are people that endanger us all. There is no easy way for us to figure out who is who and who has what in their head. I am sure in a few days, we will all have a clear picture of who James Holmes is and I am sure we will be reading about the many warning signs and chances there were out there to prevent this from happening. But hindsight is 20/20, and no one in their right mind would envision shootings like this and Columbine to occur, so even if there were some warning signs, would it have mattered? I wonder…
I also wanted to share a story that really gave me chills this morning, Aspiring Sportscaster Among 12 Killed At Colorado Movie Theater; Last Blog Entry Was First-Person Account Of Eaton Centre Shootings.  Read her last blog entry before she fell victim to this shooter — and her mention of narrowly escaping a near death shooting not that long ago and the feelings she got. There are forces in the world larger than we can comprehend…
I can not even begin to imagine the shock, grief, anger and sadness that the community of Aurora, Colorado is and will continue to feel as they confront what just happened to them. My heart and thoughts are with them.