Posts tagged
blogher
1
Day 1 Friday — I got up early to hit up the expo area and I am glad I did. Later on in the day, that place was packed. There were the typical big name booths – Chase, Lowes, Playskool, P&G to name a few. An interesting common theme was that they would ask that you take a picture and share it via Twitter hashtag in order to be entered into a giveaway. Almost every booth had a hashtag to share with me.I received a hand massage at Chase, fake eyelashes applied at Skinny Cow, a cup of coffee at Nestle, my foot pressure analyzed at Dr Scholls in addition to talking to some very interesting people manning the booths.  Some of those booths were down right amazing and most of the companies were very generous with their give-aways.After walking around half the expo, it was time to head over to the Marriot to attend a Gatorade Moms special event. I wanted to attend this not only because I am an active Mom, who is very interested in inspiring my kids to be fit, but also it was a great opportunity to meet Moms to talk about online learning.
Gatorade Moms had a special suite set up with healthy snacks – gatorade, water, fruit and we were introduced to the head of Gatorade – Sarah Robb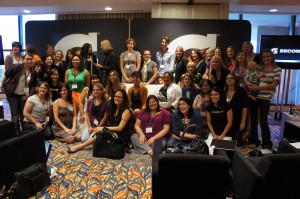 O'Hagan who thanked us for being there and then introduced to Gatorade nutritionist consultant, Leslie Bonci and football player LD Tomlinson's mother. Leslie Bonci spoke to us about proper nutrition and hydration for our kid athletes and LD'd Mom spoke to us about how to help support your kids as they grow into athletes. We were then joined by Brandi Chastain, famous soccer player who talked to us about leading by example for our kids. Her message really resonated with me as this is something I strongly believe in. Kids learn from their parents. Get out there and live a healthy and fit life, your kids will think thats what they should do as well!
When the presentation was over we took a group picture and then I stopped and spoke to Brandi a bit sharing my thoughts on what she said. Brandi and Sarah both spent some time talking to me and listening as I shared my story which I appreciated. It was a very genuine moment with some inspiring women. I was also able to meet quite a few Moms who attended and one even said that she wished she had known about Online Learning last year when she was struggling with her decision to enroll her son in Kindergarten!
After the Gatorade event was over, I headed back into the expo to finish the rounds of the booths and talk and meet some fellow bloggers. It was funny how conversations started — "oh, i love your bag", or what is the "giveaway in this booth". Everyone was very open and willing to talk for a bit.
I then attended a session entitled Reaching Brands, which was a panel discussion about how brands reach out to bloggers and vice versa. The panel discussed ways to meet influential people at companies, how to handle pitches and opportunities, and different types of opportunities out there. Very interesting stuff!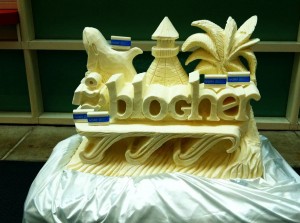 By the time it was over, I was tired. I had been sick the days leading up to this event and spent the entire previous day in the hotel bed – sleeping whatever bug I had off. So, I headed back to my hotel for a little rest before gearing up for the famous Blogher Sparklecorn party.
Before I went to the Sparklecorn party, I stopped off to see an old friend at the Hard Rock Hotel and we headed to a small party thrown by some bloggers in a small suite at the Omni. It was fun and I met some more great ladies. Then, it was time for Sparklecorn.
Sparklecorn featured DJ Skribble who DJ'd the beats, some wine/beer, finger foods and lots of people. It was fun although a bit overwhelming. I found it hard to meet people there, so my pal and I headed home early to get rested for the next day.