Posts tagged
school
0
Back to Life. Back to Reality.
Today is the first day of school for my kiddos. It's an exciting day but also bittersweet. It makes it even harder to believe how fast time goes by. HB is now in Fifth grade -her last year at the elementary school and Nate Dogg is headed to Third.  I totally remember them being my little babies, needing me for everything. There are a lot of perks to them growing up but also alot of bittersweet moments of seeing them grow into independent little human beings.  What happened to those babies who thought I was their world?
And although my kids drive me crazy at times, I wouldn't change one moment of how our family is evolving. I have the most dynamic, sharp, smart, funny, beautiful kids and I love them to pieces. I also love their father — If you would have asked me if this is the life I wanted when I was younger, I think I would have said yes.  Happy, Healthy, Dynamic, and forever growing.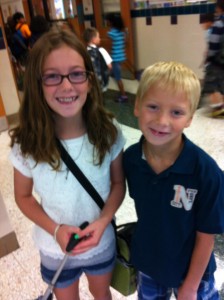 Enough of the schmultzy moment, but if you don't stop and acknowledge your life milestones then you don't honor them properly. A few years ago, when Scott was sick and undergoing his chemo, experiencing family moments like these were not a given and I fully intend to continue living the lessons that experience brought me.
Today's workout was not a favorite of mine. And I knew what it was before I got there and take note: I STILL GOT MY BUTT UP AND WENT!  It also taxed that crick I have in my neck still so mentally it was tough to force myself to lower my weight on the bar but I'm not here to prove anything to anyone but myself. And my overall health is paramount so ego or no ego – I ended up just using the bar.
Warmup
600m run
DROM (fancy word for stretching)
2x
Bear crawl
Spring
10 Kick to Handstands
Skill
Thruster
WOD

15 Thrusters
200m run
20 Thrusters
400m run
30 Thrusters
800m run
I started with 65#, did round 1 then did 10 reps and dropped to just a bar the rest. I am not a great runner, the air was thick, my neck/back still hurts and I had gluten this weekend and don't feel dynamic. Excuses, excuses but I was battling all of it in my head as well.  I have said before — alot of this is a mental game. If your not mentally in it to win it, you won't. Plain and simple. 
Same goes for your day to day life. If you aren't in it to put your best foot forward, do your best then you won't and others will notice. 
Have a super, stupendous, fabulous day and be kind.