Posts tagged
strong
0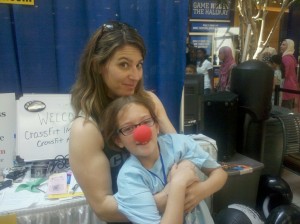 It's been a crazy busy day. I skipped my usual workout to help out CrossFit Impavidus Kids at the Family Fun Fest at Dulles Town Center. We want to get the word out about CrossFit and CrossFit Kids. We had some of our own kids and some of our athlete kids come by and did some demo workouts for the parents to see.  We had a great time but boy am I wiped out.
My friend Jason took this pic of HB and I — and he said to me "look at your arms". I have to admit I look pretty darn strong. I am definitely not a small girl — I am strong and fit looking tho.
I'm meeting some athletes at the box tomorrow to get in a coaching session. I have been struggling with a few things and need a coach to help me figure out what my problem is.  Kipping Pull ups in particular. So – I am taking matters in my own hands and scheduled time with Sven — who has been a CrossFit coach for years. A girl's gotta do what she's gotta do!