Posts tagged
youthfest
0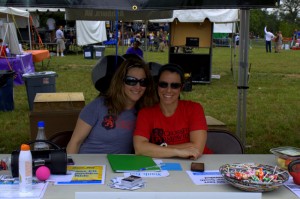 We had a great time talking to kids and their parents at the Ashburn YouthFest 2011. Each kid was given a passport that we were to put a sticker on and they had to stop by all the stands to be entered to get their prize. Well we weren't just going to give it up — we had them pick 30s of push ups, squats or box jumps and then they were posted on the leaderboard. And then we gave them the sticker –they had to earn it. Most kids were all game for it and did a great job. But there were a handful of kids that when they found out about what had to be done –they turned right around and left as fast as they could. Many of these kids were exactly the kids that should be doing this stuff — they hadn't done anything close to exercise in a very, very long time. It was sad to me. They wouldn't even consider trying it — i mean come on its 30s of squats.  One of the girls said she was already hot and did not have any 'hydration' available (her words!) but still wanted us to give her her passport sticker. We were like tough luck lady. Coach Lori almost played a small violin for it. She clearly had an attitude problem too.
That was another thing –how many teens showed clear disrespect for adults. Some of the tone and language they used towards us –well let me just say that my Mom would have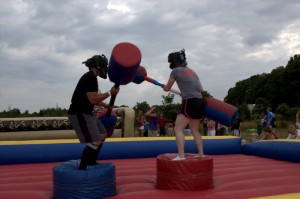 washed my mouth out with soap. I know it's not indicative of the way teens are in general –at least I hope not.
My friend Jason & I also got some time in to have fun and did the jousting moon bouncey thing and that was so FUN. It's really about technique, balance, & power. When we were done, I was huffing and puffing. It's quite a workout! I recommend it to anyone — it would make a great party activity.  My only complaint and it's kinda the Mom in me –they didn't spray the face masks down so you got to 'share' everyone's sweat. I tried to put that out of my mind…
All in all it was a great day. We talked to many kids about CrossFit kids, had them exercise a bit and met a lot of parents who showed interest in stopping by the box.  For me, getting the word out about CrossFit in general means a lot to me. I wish other Suburbanites would discover how strong and amazing they can be!
I also loved that YouthFest was created and organized by teens themselves. What a great way to encourage teens in this area!
0
I have a busy day that started out at CrossFit Impavidus for another fun and hard workout. Scott has informed me that I basically say that about every workout, every morning when I come home. So I'm probably like the boy who cried wolf.  But it's true and it's good because that means you never stop progressing.
I'm headed to Ashburn YouthFest to talk to teens about CrossFit Impavidus Kids/teens program. Should be pretty fun.
Warmup
800m run
Dynamic stretches
OHS
Pass thrus
Push Ups
WOD
Sled pulls in 2 teams. As team player is going, you do push ups, leg flutters, run in place
tabata! 4m (20s work, 10s rest)
Pull Ups
Bottom to Bottom Squats
Push Press
4, 11, 7 total