Are you a slave to the scale? I will admit that I still fight this part of me. I don't own a scale, haven't owned one my entire adult life. Why would I want to spend money to own something and give space to something that has so much control over me that it can make or break my day? No way Jose!
We are all so conditioned to believe that a number on the scale tells us that we are OK, and if we are healthy. A Number! Look around and read my post about Gretchen Kittelberger and how there are so many different body types out there. How can one small range of numbers apply to us all?
The past year I have shared a few of these pictures – pics that tell that story better than I can. Actual athletes who weigh more now than they did when they started. There is no way you can say that they don't look more fit, healthier and BETTER!!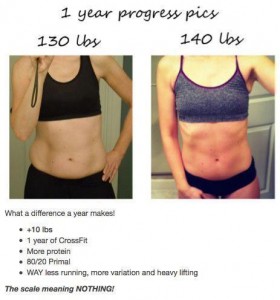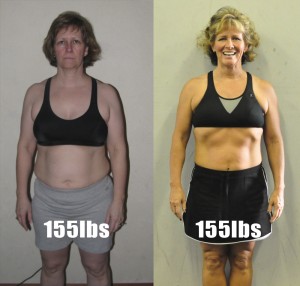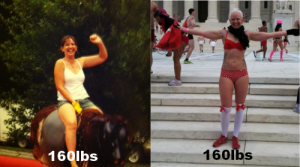 There you have it. These are just 3 pictures but there are many many more out there! As I find them, you will see there posted here. I do it to help others but it's a good, needed reminder for me too. It's about being healthy and fit — not what number you see on the scale.
Today's workout sucked. Yeah, it really did. And it was humid, so my asthma was bad and today's workout had running in it. A lot of running — oh the joys.
warmup
50 Double Unders
2x–
10 wall ball shots
10 push ups
10 walking lunges
10 sit ups
push up progressions
Skill
Thruster
WOD
5 RFT
I decided to not go full on RX today. I have been feeling fatigued this week and Coach Conan's WOD guidance was to pick a weight that you can go full steam and not have to stop. I chose 50#, however because I couldn't breathe, I still stopped. I am working on being mentally OK with scaling when I feel it necessary. It's not a sign of weakness or giving up – it's assessing where your body is at at that particular moment and adjusting. 
And I am so proud of some of the younger women that I work out with. There are a few, when they first started, I smoked them each and every workout. Well the time has come –the student has at times surpassed the teacher! It's motivating for me to see because how dare they smoke me by not just one, but sometimes two or more rounds!  I just love to see the change in people first hand. The fire, the gains, the progress they make. That's what fills my tank up each and every day.