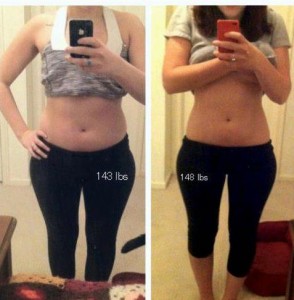 Another picture to illuminate how the scale does not tell the entire story! Stop being a slave to the scale and live healthy and fit, oh and sore of course!!
Here's another blog entry from yet another female athlete that talks about it, just like I have before!
I took a rest day today. EVA, Nancy, Annie – those ladies are tough and my body needed to rest even though I would have liked to take on Grace! Tomorrow is a good one –although I am not going to share it until tomorrow but it's one of the Ladies of CrossFit as well — ending a full week of the Nasty Girls.
I am so excited to go to a Combatives Camp with Tony Blauer this weekend. Jeremy Kinnick, Greg Glassman, Tony Blauer and a bunch of other amazing, inspiring athletes will be there. I love training sessions like this — so unlike what the old me would have done and I learn so much and have an amazing time in the process. I am so friggin lucky! Oh and I can kick your ass afterwards.